Rapid acceleration of PropTech adoption and the rise of disintermediation are some of the major trends impacting the commercial real estate industry in 2019.
The latest Altus Group CRE Innovation report provides an outlook on technology trends impacting the global CRE industry and highlights the significant acceleration in adoption of PropTech, and the effect of disintermediating technologies.
The report, which is based on a global survey of 400 CRE executives at firms with assets under management ("AUM") of at least US $250 million, shows that driving efficiency through automation is a key priority for CRE executives, and the use of AI and machine learning is approaching a critical mass.
Disintermediation is also driving emerging technology adoption. New business models associated with the sharing economy, co-working and e-commerce are disrupting the CRE industry by cutting out middle steps and processes to create greater efficiencies. The layers and stages of the financing, funding and transacting process create inefficiencies in many core CRE functions. As a result, the rise of disintermediating technology platforms and solutions are having a major impact on the CRE industry.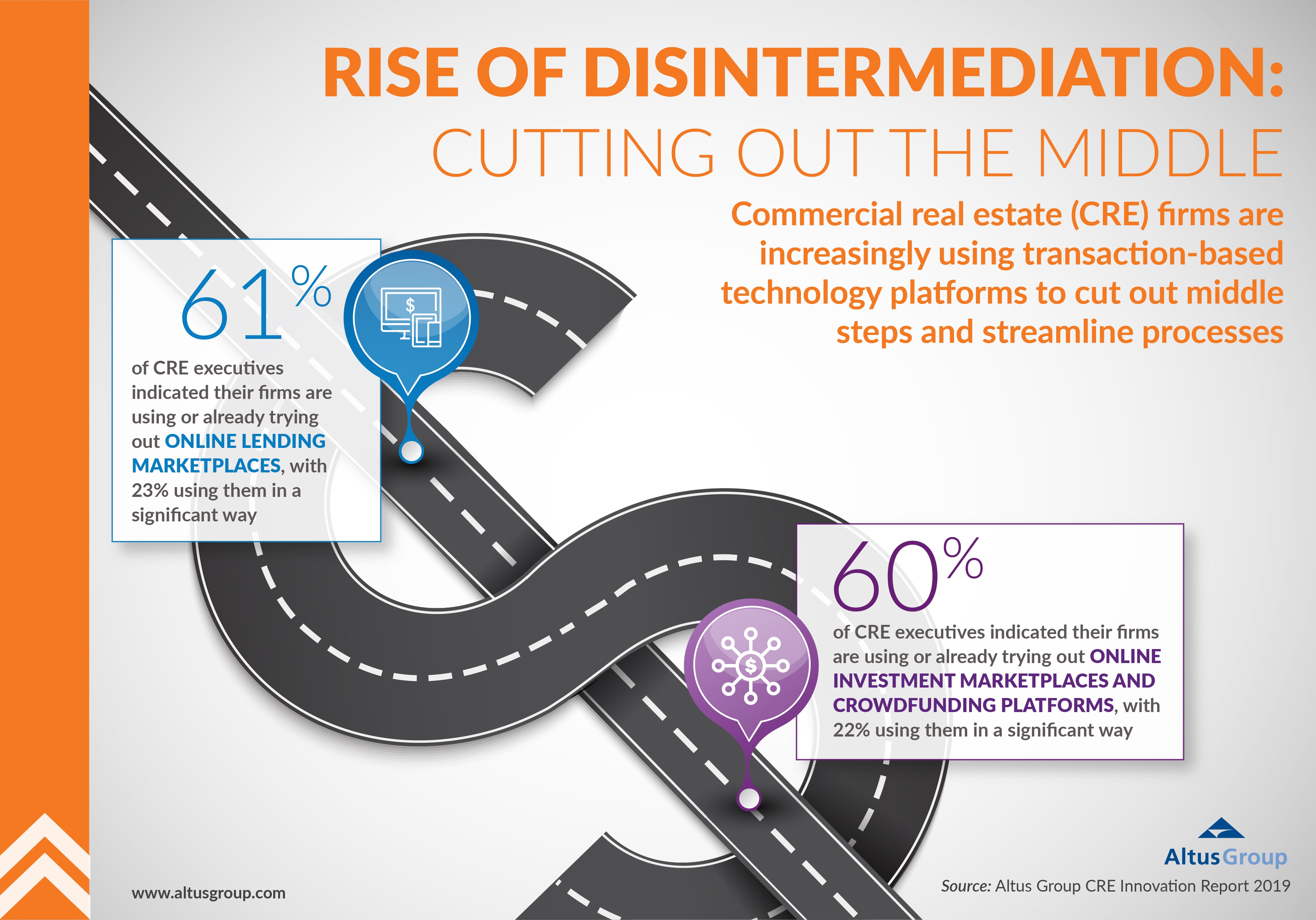 Key findings from the 2019 Altus Group CRE Innovation report include:
Nearly 10% of CRE executives "don't really understand blockchain and what it does," while 37% expect blockchain to start having an impact on the CRE industry within the next two years
31% of executives stated that smart city initiatives and projects are already having a major impact on their investment and portfolio decisions
A large majority of firms have already invested in integrated software solutions for critical CRE functions. However, 60% of executives said their firms are still using spreadsheets as their primary tool for reporting, 51% for valuation and cash flow analysis and 45% for budgeting and forecasting, indicating that despite significant innovation, the industry continues to lag in certain areas.
Download the Altus Group CRE Innovation report at: https://go.altusgroup.com/EMEA-CRE-Innovation-Report-2019.