Proptech Norway – The Event
On the 1st November, Norway's largerst PropTech-event was hosted at Samfunnssalen in Oslo with over 400 delegates in attendance.

© Image Courtesy of Jan Khur
Showcasing the greatest proptech lineup The Nordics have seen, WeWork's Ronen Journo relayed how the co-working giant plans to continue it's transformation of global real estate by catering to a radically changing workforce of independent professionals - and the corporations eager to piggyback the innovation they create.

© Image Courtesy of Jan Khur
The greatest buzz was no doubt created by Hongqi Guo, founder of Yitong, the architecture and planning office behind the largest urbanization project on earth, in which 350 million rural Chinese are being moved into megacities that are being built from scratch. New technology is used to solve the defining challenges of modern Chinese living, including environmental issues: "If you plan on using a fossil fuel car, the license plates will probably cost as much as the car," he said.

© Image Courtesy of Jan Khur
The strong and mature showing of proptech companies such as Unissu, Studio Schwitalla, Unacast, Placense, Imerso, State of Place, Equiem and Dimension10 demonstrated that, at the moment, most real estate innovation is happening outside the real estate establishment.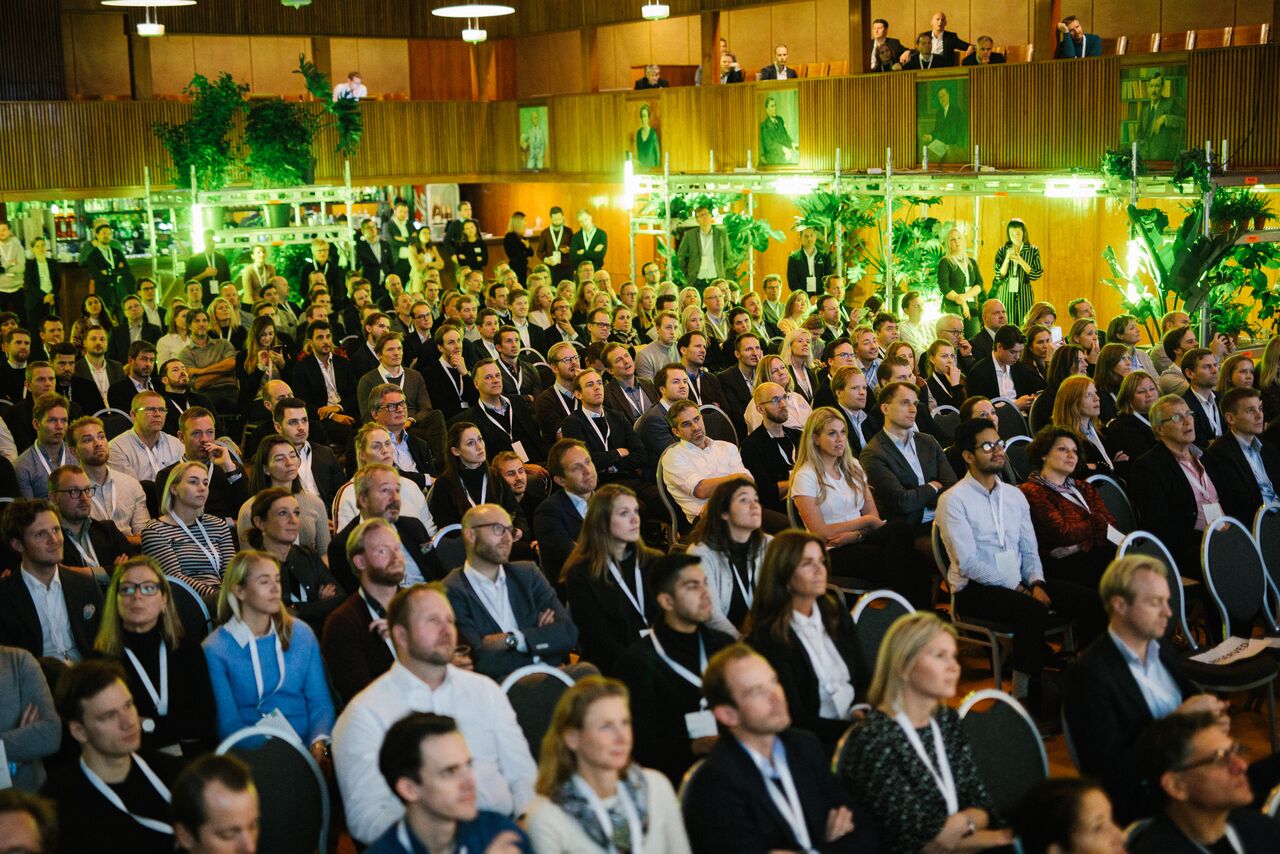 © Image Courtesy of Jan Khur
The showing of radical innovation at the summit garnered international attention. Kari Aina Eik, head of The UN's Charter Excellence Centre for Smart and Sustainable Cities, pointed out that the participating companies, along with the vastly different approaches to real estate development demonstrated by the American and Chinese companies, show the many ways that proptech is working address how we will work and live in the cities of tomorrow. She added that the newly established dialogue with major drivers such as Yitong will define the global real estate industry.
More pictures from the show: https://www.dropbox.com/sh/wob3tmr9nb453he/AAAkEAJg4tHT_2iAFkPNSy74a/PropTech18?dl=0&subfolder_nav_tracking=1
Updates on Norway Proptech Startups:
1. Imerso
In just a few weeks Norwegian Proptech start-up Imerso has been endorsed both by the Norwegian prime minister and by Norway's largest real Estate owner, Statsbygg. Statsbygg claims they could save hundreds of millions of NOK using by Implementing Imerso's 3D scan to BIM tech.
Imerso recently entered into a partnership with Leica Geosystems: https://www.imerso.com/blog/2018/imerso-is-partnering-with-leica-geosystems
One to watch? Check out: https://www.imerso.com/
Article (English): https://www.simula.no/news/ministers-say-simula-example-follow
Article (Norwegian): https://www.dn.no/morgendagens-naringsliv/imerso/statsbygg/sarah-muller/hun-sjekket-hver-millimeter-av-12000-kvadratmeter-pa-en-dag/2-1-428362
Article (Norwegian): https://www.dn.no/politikk/erna-solberg/iselin-nybo/simulasenteret/regjeringen-vrir-flere-forskningskroner-til-ikt-og-naringsliv/2-1-434179
2. Dimension10
"Dimension10 continues on their journey to become the infrastructure of collaboration in the construction industry. Last company to sign up to their platform is AF-Gruppen, one of the leading contracting and industrial groups in Scandinavia. AF-gruppen aims to increase efficiency on projects through fewer misunderstanding and less travel through the use of Dimension10. "With this solution, we can walk through our 3D-models of the buildings in VR and modify any errors before the shovel is put into the ground. It will be significantly cheaper than when we uncover mistakes after they are built "says Rune Husse Karlstad, BIM coordinator at AF Anlegg.
One of the main reasons for their growth, in addition to the obvious benefits if visualising 3D-models in VR, is their relentless focus on ease of use. "Since inception we have focused on an intuitive software" CEO, Aleksander Langmyhr says. "The VR technology and interface is new to many, so we want it to be as easy as possible to use for our customers". And based on the feedback from AF-gruppen, they are succeeding. As Rune from AF-Gruppen points out: "Here (in Dimension10) you can have more people in the same VR meeting, and it is done as easily as possible. It's good in an industry where many think it's challenging enough with Word and Outlook. You get quickly paralysed if it becomes too difficult, but this tool is not "rocket science". Project leader Anja Krohn Bjørnstad from AF gruppen was also impressed with Dimension10, saying "It was interesting to experience how quickly one accepts a VR meeting as a concept. It did not take long to wear the glasses until you no longer reflected that you were in VR and concentrated on the professional details".
Following their growth, international expansions are in the pipeline. "At the moment we are focusing on connecting Nordic architects, real estate developers, advisors and construction companies in Dimension10. Learning how and why they save money and become more effective by changing their workflows and moving physical meetings into our VR software platform is key when we are expanding to the UK in the spring of 2019" Aleksander states.
It is obvious the VR technology is starting to add significant value to construction projects and will be a technology important to everyone involved in the proptech industry."
DM10 recently landed another deal with AF Gruppen to build better and cheaper roads in Norway: https://shifter.no/startup-landet-storkunde-virtual-reality-kan-gi-bedre-og-billigere-vei/ (Norwegian)
Exciting things happing in the Norwegian VR-scene.
3. Spacemaker
Spacemaker is one of the most well-known start-ups in the Oslo scene and one that many think will be Norway's first unicorn.
Results so far from 18 months of product market fit with paid pilot projects are very promising, with examples of customers saving up to a year of planning and discovering proposals they never would have come up with by using todays methods of trial & error / human intuition.
4. Propterty Flow
With the ever-expanding property market in Bangkok increasing, Norwegian PropTech start-up Property Flow is rapidly expanding in the digital space with an impressive technology platform connecting estate agents and brokers, increasing the digitalisation of their business in Thailand.
They recently landed a big agreement with Facebook which strengthens their position in the Asian market.
Read more:
https://techsauce.co/en/tech-and-biz/property-tech-facebook-marketplace-signs-with-property-flow-as-thailand-4-0-takes-effect/?fbclid=IwAR14JnVhn4lvQ96IN8nfhi8fuwmDrTFVD0ScjZiYDasUFFgm3YbYUr26DcA
5. Airthings & Smart Plants
Airthings and Smart Plants recently signed a letter of intent signaling the first step of an exciting partnership in the Norwegian Proptech market. Airthings is a market leader within Indoor Air Quality (IAQ), recently awarded the Export award in 2018 for bringing Norwegian technology to a global marketplace. Smart Plants is a full-stack IoT company working with industrial IT-solutions, thereby opening up great opportunities for ongoing optimization and related cost reductions.
As the first of several projects Airthings and Smart Plants are in the process of piloting a 20.000m2 building in the Stavanger area. The pilot is providing real time data from all control systems in the building. Airthings sensors and Smart Plants Clevair solution will be used in full effect to "close the loop" for a full-scale optimization in terms of both indoor air-quality and energy efficiency. People spend more than 90% of their time indoors, so monitoring IAQ and taking appropriate action is important to ensure better and and healthier lives. In cooperation, Smart Plants and Airthings aim to take lead in the market creating the best solutions for existing buildings.
For more information check out https://airthings.com/ or https://smartplants.io/.
See also: https://www.bygg.no/article/1371553 (In Norwegian)
6. Unloc
Unloc is making life easier for everyone with a front door. They believe to have developed the solution to the remaining e-commerce friction—home delivery. Their solution is a lock-agnostic platform for easy sharing of digital keys. Enabling logistics companies to open doors with their phones. Delivery fulfillment every time—even when no one is at home. No more house arrest.
Unloc just announced their collaboration with two of the largest logistics companies in Norway, Schibsted and Easy2You, with distribution to every home in Norway.
https://shifter.no/last-mile-startup-landet-storavtale-med-schibsted-det-gir-oss-enorme-muligheter/ (Norwegian)
https://www.linkedin.com/feed/update/urn:li:activity:6460170071703580672 (Norwegian)
Unloc also just announced a partnership with one of Oslo's leading real estate developers, Urbanium.
https://www.estatenyheter.no/2018/10/17/satser-pa-digitale-nokler/ (Norwegian)
With just a couple of taps residents can give access to the delivery person, cleaner, or someone from the household who forgot their key. Easy, safe, and efficient.
Read more at unloc.ai.
7. Catenda
Catenda is a Norwegian BIM company who have just entered into an agreement with Egis to do three enormous infrastructure projects in France, including Grand Paris' new line 16. Exciting to see that they are going from buildings to infrastructure: https://www.theconstructionindex.co.uk/news/view/egis-picks-norwegian-bim-system

Thanks to Henrik and this great event overview. It was a fantastic event, which we were delighted to be a part of! For more Global Updates, check out the FPT blog!